You've heard of the saying raining cats & dogs? Well it's raining cats & cats out there. Despite strong winds & heavy rain both Susie & Rosie proved to me that they are totally insane &
both
went out into the most dreadful weather around two hours ago whilst I on the other hand have been taking it nice & easy relaxing in luxury.
They have only just come back & they are soaking wet. Daft blighters.
Look at them, both drenched & looking like drowned rats. I even left my nice warm place to investigate Rosie as I couldn't believe how wet she was. Then weatherwitch dried her with the towel & Rosies long fur went all frizzy as usual :-D
As for Susie, well, you've never heard such vile & foul language. Anyone would think weatherwitch was trying to murder her not dry her. What a racket, & she got her eyes well cleaned too as she suffers with awful summer allergies & the rain had helped that too whereas she fights weatherwitch when she tried to clean them.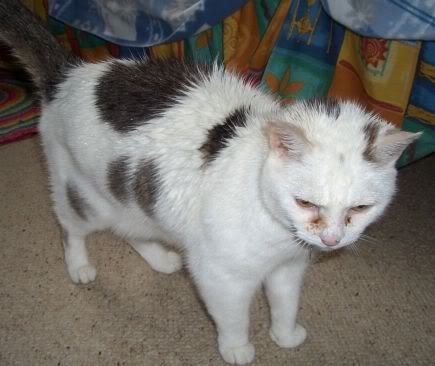 But still now Rosie is happy on the dresser, Susie is hiding on top of the wardrobe & I am returning to comfort again. Hmm, should I go back to the footstool or sofa? Decisions, decisions ...
Current Mood:
contemplative